2017 is a Number 1 White Water Year
February 4th, 2017 through February 3rd, 2018 is a 1 Water year. One Water is the most yang energy state. It is associated with the north, midnight, winter, darkness, depth and silence; a time to see beyond the surface. It is the ki of solitude and loneliness and, therefore, supports a mood of quiet introspection -- a time to find inner strength and then to rely on it. As such, it is directly associated with the spiritual, rather than the material world. But to think that Water does not influence the material world would be a mistake.
Look at it this way. All nine numbers are the same energy but each number exhibits that energy in different forms. Nine Fire, the most yin energy state (summer, brilliance) is flashy and charismatic. We look at Fire and we immediately see the energy because it is on the surface, in the process of being released. It is kinetic energy at its peak. On the other hand, Water is potential energy; great power resting below the surface.
This is not the stereotypical ki of the movie-star or the politician, or of the way they influence our world. Water is the ki of the monk, the mathematician, the prophet and philosopher. Those who seek the lowest common denominator, who gradually move mountains, over time. Rooted in the deep.
Water governs Fire and thereby influences every event on the planet. Normally, 1 Water works in a hidden, spiritual way -- receiving excess rigidity (Metal) and then testing all phenomena of their true durability. Water is liquid - floating. Just as religious principles, not material but felt in the heart, can define the course of a nation, so hidden Water breaks excess rigidity and allows the river of time to flow on. As such, it is indispensable in the cycle of 9 Star Ki.
Yet, 1 Water does not always move with the benevolence that one would expect of 'the ki of spirituality'. Indeed, we must exercise care when dealing with Water. Consider the Praying Mantis as it silently waits for its food. You may watch it for an hour and it will not move but, when the opportunity arises, potential energy explodes in a sudden kinetic burst. Atomic weapons operate on this potential-to-kinetic principle in a most horrifying way. 1945 (Hiroshima, Nagasaki) was a 1 Water year.
It is said that one must be careful not to make mistakes, when occupying the 1 Water position. It is easy to see why. It's important to go with the flow - to correctly utilize the wonderful gift that Water offers freely and in abundance. To awaken our spiritual center and to remember that we are all but atoms connected, together creating the same infinite sea. This is a time to return to our roots as human beings, to seek the common denominator of life. Love, Unity, At-one-ment.
So, there is a balancing dance we must perform. Going with the flow in unison yet not allowing ourselves to be swept away. As individuals, we must learn to speak from our centers, from our hearts -- not so much what we think people want to hear, but to tactfully and warmly present what we hold to be dear and true. We must speak clearly and proceed with purpose.
This is not always easy but it generates trust and, in the long run, it leads to true unity because the union becomes an honest one.
The antithesis of clarity is, of course, secrecy. Being the ki of silence, depth and solitude, Water is associated with concealment and stealth. While 1 Water is excellent for reflection, deep thinking, and conceiving the seeds of the future, it is unfortunately also a time of troublesome conspiracy and sudden attacks. Indeed, many of our leaders have been assassinated during 1 Water years.
This year, 5 Soil (karma, government, politics) will make balance by occupying the 'opposite' house, 9 Fire. While this will be very entertaining we should also remember that it's easy to make mistakes. Fire promotes spontaneity and there will be superficial, off the cuff remarks that will, later, be regretted. Again, we should temper our words with clarity and this is especially true for politicians and leaders. Watch for military and political blunders.
Concerning money and finances, Water is said to disperse or dissipate material goods. However, on some occasions 'dissipation' is not directly experienced as a material loss because, in the extreme, it can be associated with 9 Fire's capacity to generate expansion. This is the same 'potential-to-kinetic' principle. Excess Water energy produces multiple details, distractions, numbers. From 1 (yang) comes many (yin). So, stock markets can rise as easily as they fall.
Still, the ki of Water is inherently yang, so expansion only occurs when it is pushed to the extreme (excess yang becomes yin) like when water & cold combine to produce ice, causing it to expand. As such, this form of dissipation is usually temporary. Ultimately, an event appears in the natural flow that generates a 'thaw'. Dissipation still exists, but it resumes a yang form that is more characteristic of water; flowing out in many directions, seeking the lowest common ground. So, when we look at monetary and all material systems over the long-term we see that, while there are peaks and troughs, finances must be managed very well, indeed, because Water's ultimate mood tends to carry away rather than accumulate.
Some 1 Water individuals are exceptionally talented money managers. For example, Alan Greenspan's predecessor, Paul Volcker, is a 1 Water who served as chairman of the Federal Reserve from August 1979 through nearly all of the Reagan years. This was during a 6 Metal 9-Year cycle (Metal supports Water).
This atmosphere of material and economic dissipation can be very strong, bringing down large and well established organizations; even causing the collapse of entire nations.
Of peculiar interest, in 1 Water years there are many newsworthy topics that are sports-related. Many athletes are born in 1 Water years. Perhaps this is due to Water's association with potential energy and, so, the physical world. Whereas many charismatic celebrities are 9 Fires (fame, illumination, entertainment) Water-born people are more prone to gain acceptance through a quiet, yet consistent & focused effort. Through sports, this can be realized in a very material way; just as the persevering stream forms the impressive canyon.
Most obviously, look for 'Water-signs'. Natural and global events that directly involve water, or take place within or nearby large bodies of water.
World events will not be so straightforward. One Water will generate a small but perceptible decline in the capacity to accomplish tasks and achieve decisive solutions. The more complicated the problem or task, the greater the interruptions and diversions. When problem solving, there is a tendency to become caught up in minuscule details. Events intrude upon one another. While trying to make progress in one area, an unrelated issue becomes urgent and, so, attention is diverted. Material assets break down and require repair. These conditions are not necessarily bad. For example, we gain a much deeper understanding of a problem or a process, when we are forced to study all of the details. But, the immediate outcome can be disheartening because, at times, little visible progress is made or there can even be setbacks.
Yet this is also the great value of Water. As material progress & success weakens, we are forced to rely, more and more, upon our inner strength; our intuition, our resolve and our faith. As the material "fades", the spiritual awakens because it must. Or, better put, not because it has to, but because this is the process of 1 Water. Turning from the outside world to within. Relying less on society, machines and money, and more upon insight, faith and God. Upon our greater connection with the infinite universe. And that, my friend, is beautiful. Because, what we find there is not dark, indifferent silence, unless we make it so.
In the depths a treasure awaits, and it is our responsibility to find it.
In ancient times, it may have been different. Perhaps this cyclic "return to within" was better appreciated as a natural sequence in the dance of life. But, modern life is so bombarded with the "importance" of material success, wealth and prestige, that 1 Water can be difficult. Yet, it is this very fact that makes 2017 so vitally important to us. The world will receive a chance to return, to get back in touch, to "re-remember" the greatest miracle we have.
A floating, ambiguous conclusion -- not so decisive on the surface but with momentous significance brooding in the depths -- this is the final year in the 3 Tree 9-Year cycle. Similar to the previous 4 Tree 9-Year cycle, 1 Water supports 3 Tree. Because Tree is the ki of spring and the morning, and is associated with activity, world trade and commerce, we should not anticipate this to be a sullen, dim or sluggish time period. Rather, the world will be bustling with activity. Many waves on the surface. Three Tree provides a bridge between potential & kinetic energy (Water strengthens Tree, Tree strengthens Fire). There will be grand opportunities for productive ventures and inspiring, hopeful events. But the opposite also applies. As you review examples from previous 1 Water years, you will note a high degree of dissolution.
Proceed with a little caution. All atoms connected. All atoms aware.
The Ki Flow
From a greater perspective, we can review the passage of the years. I've advised our longtime readers & friends to see 2011 & 2012 (Metal years) as a "cooling off" phase in our new era of individual expression and responsibility, that began in June, 2005. As the Metal years closed, we had tangible proof that the role of the individual remains free and strong, even in dire circumstances. Look to the Arab Spring and to the exponential growth of social media.
We then traveled through the 2013 house of 5 Soil (karma, politics and control). Everything came under scrutiny -- to be studied, to be considered from all perspectives. For example, the nearly total gridlock in the American congress. In 4 Tree 2014 the world awakened. There were new discoveries and new avenues to pursue. New agendas. But hot spots around the world remained and there were basically two types. A struggle between personal rights and centralized control. And a clash between basic beliefs. It was in 2014 that we encountered the dark side of our new era of personal expression. We learned that if acts of constructive expression fail, then destructive expression can take root. Our initial enthusiasm faded as we realized that the global network of personal communication could be pirated and used for hatred and war.
In 2015, we passed through a 3 Tree year within a 3 Tree nine-year cycle. The ki of 2015 was the essence of this contrast between construction and destruction. This isn't a coincidence. We entered the current 3 Tree nine-year cycle on February 4th, 2009. Since then, the mood of 3 Tree has occupied the global background - sustaining the ongoing course of events. Because 2015 was a 3 Tree year, the mood of the nine-year cycle was magnified. Even more than 2014, it was a time of rapid progress, great upheaval and angry outbursts.
2016 was a 2 Soil year. Two Soil is a peaceful energy; associated with food, farming, education, reaching out, forming alliances, planning, preparation, accumulation and stagnation. It was an important year to come to the table, to develop treaties and peaceful agreements. But due to the more active ki of the larger cycles (Tree & Fire) and the many world leaders who were too rigid to compromise, the peaceful opportunities were largely missed.
In the previous 1 Water year, 2008, we witnessed the financial meltdown. The crash was not caused by the ki - it was created by greed in the markets, gullible consumers and politicians who wanted to keep them so. But the 1 Water annual ki did little to improve the sinking conditions. Since then, the markets, housing and jobs have come back but almost nothing has been done to correct the underlying problems. Sadly, our new era of individual expression has created so many voices and media outlets that people now tune into the news they want to hear instead of hard information from professional journalists that sometimes hurts. This darkness, this miscommunication, this world of "alternate facts" is already upon us as we begin to enter Water.
This does not suggest that another global meltdown will occur, but we must be very careful in the way we proceed. In the short term, it's too late to depend on a better informed public. That isn't going to happen. Perhaps the best way to enter the year is with a mood of justice and balance. Justice because adjustments need be made. Balance because too many of us are frustrated. After two Tree 9-year cycles, in this 18th year of Tree, many of us are angry. At the very least, we must learn to express ourselves intelligently, with patience, forgiveness, kindness and love, even if others don't. At this locus in time, silence is deadly. We need to speak out, but we can do so with diplomacy.
If we do not, then we will enter 9 Fire 2018 in a state of turmoil and Fire will perpetuate the chaos. In that case, the odds would be statistically reduced that we will enter 2019 at all. Perhaps Water will help us cool down before we enter Fire, but we must be very careful. Perhaps each of us can find a pen pal in Russia or China, or the United States. Or we could join a community organization. We need to reach across many borders. Please communicate clearly, kindly and from the heart.
1 Water Research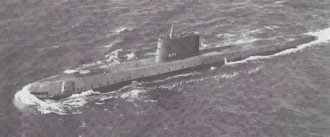 September 30, 1954 - 1 Water Month / 1 Water Year / 1 Water 9-Year Cycle / 1 Water 81-Year Cycle.
The USS Nautilus, 1st atomic-powered submarine is commissioned by the US Navy.

As usual, I have provided a list of previous 1 Water years for you to explore. Also as usual, I've generally tried to avoid using battles, wars and other lethal events as examples. They are simply too depressing. Still, even when cherry-picking, a few ugly events were included. Where possible, the incidents have been placed in categories that reflect the various aspects of the ki.

Secrecy, insecurity, stealth:

Water suggests inner strength, depth and darkness. It follows that it is also associated with the hidden -- the yet to be revealed. Water supports secret plots and backroom deals.


Caution around water & all liquids:

This is perhaps the best known admonition concerning 1 Water. It indicates caution in or on water but also caution around all liquids; including beverages, fumes from evaporating or burning liquids and, of course, toxic liquids.


Water supports rising energy (Tree):

Abundant Water ki can fuel energetic events (Tree / Wood) as they actively transform potential energy (Water) to kinetic energy (Fire). One Water can fuel natural (weather, seismic activity) and human events (e.g. naval battles).


Dissipation. Collapse:

Projects, organizations, treaties and even national governments often conclude or end in 1 Water.


Water signs:

A general grouping of events that are clearly associated with or supported by Water ki.


North, midnight, winter:

More specific conditions and events that reflect these three familiar attributes of Water.


Notable observation:

Items of interest that don't necessarily fit in any of the above categories. For example, you'll see that major athletic accomplishments are common in 1 Water years.


You can research the raw information here, in the Wikipedia® "List of Years". Just remember that the ki-year begins on February 4th and extends through January of the following year.

[1891] [1900] [1909] [1918] [1927] [1936]
[1945] [1954] [1963] [1972] [1981] [1990] [1999] [2008]



Here are some previous 1 Water years. Specific events are listed, along with attributes that illustrate the mood of 1 Water. The majority of this information was gleaned from Wikipedia®, which used to be a good online resource for studying 9 Star Ki's historical influence. We've been made aware of some very biased Wikipedia® articles that cannot be edited with verifiable facts. We my continue to use their list of years in the future but, in general, we're moving away from them as a primary resource.

You will notice trends that are more informative than, perhaps, anything I can say in words. Some examples are interesting while others are quite ominous. Please remember this: Events that happened in the past do not necessarily repeat in the same way. Because the atomic attack on Hiroshima occurred in a 1 Water year does not mean there will be a nuclear strike in 2017.

However, the overall mood, the atmosphere of the times will be very similar, as 1 Water casts its deep, spiritual and sometimes uneasy shadow. In extreme situations, look for conditions associated with, or rising from, potential energy (Water) changing to kinetic energy (Fire). This could arise in the form of an explosion but it could also appear in many other, more benevolent ways, such as a breakthrough in solar power technology.

Or the awakening of a new movement.


You can click on the number of the year:

2008 (1 Water Year / 4 Tree 9-Year Cycle / 9 Fire 81-Year Cycle)

1999 (1 Water Year / 5 Soil 9-Year Cycle / 9 Fire 81-Year Cycle)

1990 (1 Water Year / 6 Metal 9-Year Cycle / 9 Fire 81-Year Cycle)

1981 (1 Water Year / 7 Metal 9-Year Cycle / 9 Fire 81-Year Cycle)

1972 (1 Water Year / 8 Soil 9-Year Cycle / 9 Fire 81-Year Cycle)

1963 (1 Water Year / 9 Fire 9-Year Cycle / 9 Fire 81-Year Cycle)

1954 Archetype (1 Water Year / 1 Water 9-Year Cycle / 1 Water 81-Year Cycle)

1945 (1 Water Year / 2 Soil 9-Year Cycle / 1 Water 81-Year Cycle)

1936 (1 Water Year / 3 Tree 9-Year Cycle / 1 Water 81-Year Cycle)

1927 (1 Water Year / 4 Tree 9-Year Cycle / 1 Water 81-Year Cycle)

---------- Additional Notes ----------

1918 (1 Water Year / 5 Soil 9-Year Cycle / 1 Water 81-Year Cycle)

1909 (1 Water Year / 6 Metal 9-Year Cycle / 1 Water 81-Year Cycle)

1900 (1 Water Year / 7 Metal 9-Year Cycle / 1 Water 81-Year Cycle)

1891 (1 Water Year / 8 Soil 9-Year Cycle / 1 Water 81-Year Cycle)