---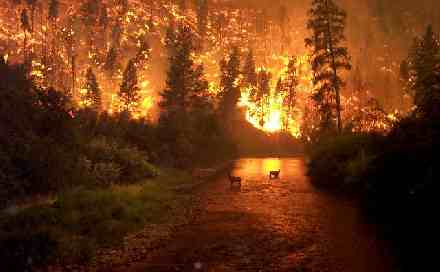 Bitterroot National Forest, August 6, 2000- by John McColgan
9 Star Ki Fire Signs - July 7 through August 6, 2000
A Nine Fire Year / Nine Fire Month
---
July 2000 was a very interesting time period. Fire energy was very strong and we observed several potent signs, indicating 9 Fire's active, explosive nature. The following events are good examples.

Intense heat and drought in Southern Europe; especially Greece, Turkey & Bulgaria. (S. E. Europe)

S. E. United States- Worst drought in over 100 years. The S.E. (4 Tree direction) occupies the 9 Fire position.

Nigeria- Fuel line explosion kills hundreds.

Russian launch of International Space Station command module. Pizza Hut advertisement on booster. (Advertising and public relations are 9 Fire activities)

Camp David Middle East peace negotiations fail, illuminating a familiar, long-term problem.

Solar flare causing ionospheric radio communications problems across the entire daylit hemisphere of the Earth.

In Philadelphia, an African-American was removed from a stolen auto and beaten by the police. Very similar to the Rodney King beating in Los Angeles, 9 years ago (also a 9 Fire year).

In some areas of the United States west, electricity prices (fire energy) rose up to 40 times their normal rate, in a 2 week period; due to high demand and low water conditions.

A second solar flare caused power disruptions and some temporary blackouts.

Forest fires spread across the western U. S., in areas of Colorado, New Mexico, Montana, Nevada and California. One fire exposed an ancient Pueblo Indian cliff dwelling that had been hidden for centuries.

A third solar flare, much stronger than the first two, caused electrical power fluctuations and satellite communication problems. Creating an intense display of the Aurora Borealis (Northern Lights) across most of northern Asia.

Tragically, a supersonic jet transport (a Concorde) exploded and caught fire during take off. The French SST crashed into a hotel on the outskirts of Paris, killing everyone on board and several people on the ground. The fuel tanks were loaded for a trans-Atlantic flight.

As of July 30th, there were active forest fires in 12 of the United States. Sequoia National Forest was experiencing their worst fire in recorded history. And Mesa Verde was still not under control.

It is interesting and very encouraging to note that in all of the instances, above, people were on the scene; calling for justice, working for peace, providing aid and seeking solutions. Indicating, that it is our responsibility to make order out of chaos and to bring balance to the fiery nature of the times.
---
Acknowledgment:
The photograph, above, was widely circulated as an e-mail attachment, in September and October, 2000. As some of the e-mail messages stated:
"This awesome picture was taken in the Bitterroot National Forest in Montana on August 6, 2000 by a fire behavior analyst from Fairbanks, Alaska by the name of John McColgan with a Digital camera. Since he was working while he took the picture, he cannot sell or profit from it so he should at least be recognized as the photographer of this once in a lifetime shot."
---

Return to Home Page
---
<!*******************>

X
© The Blooming Grove Studio. Serving you on the net since June, 1996.
---
<!****************************>