---
Introducing The Cooklets!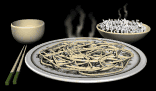 A Series of 12 Small Cook Books

Written and self-published by Melanie Waxman
---
Looking for a way to get started on the road to a happy, healthy and natural lifestyle. The Cooklets are considered to be the most practical and easy to use books on the subject of Macrobiotic cooking. Each book is laid out in menu format to show you how to prepare a full meal. They are also packed with great information that includes the benefits of different foods, food preparation, menu planning, setting up your kitchen and more.
The recipes are fresh, simple and stylish. The flavors are clear and distinct and the textures crisp and satisfying. You will learn how to make food that sings on the palate and brightens the senses. The dishes and recipes are my families favorites, ones that we enjoy everyday.
The Cooklets are the kind of books that can be left open on your counter and get covered with bits of corn or rice syrup. They add a comfortable aspect to the kitchen. They are spiral bound so that they open easily and can lay flat. The recipes are bold and simple to use, there are no frills or fancy photos and I designed them specifically to be of value to you the cook.
---
Titles

Cooklet Manual; with an introduction by Boy George.

This COOKLET has all the information needed to get started cooking. An index is provided to help you find the recipes in the other Cooklets.

The other titles are:

Lets Get Started
Lets Cook Dinner
Quick and Easy Dishes
Cooking for Health
Spring and Summer Cooking
Fall and Winter Cooking
Cooking for Children
Breakfasts
Oodles of Noodles
Pickles, Condiments and Home Remedies
Fun on Festive Occasions
---
About the Author
Melanie Waxman began studying Oriental medicine in 1980 and went on to specialize in macrobiotic cooking. She has lived in Portugal, England and America and has trained cooks from all over the world. Melanie is the mother of seven children. She has cooked for international recording stars, fashion designers, doctors, business professionals and has helped thousands of others to change their lifestyle and way of eating. She has written a childrens cook book; Mr Hoppitys Color Me Cook book for Kids, a series of self-published12 Cooklets and has recently published Bless the Baby, a beautifully illustrated book on the natural and traditional ways a mother can bond with her newborn. Melanie is also a massage therapist and Feng Shui consultant.
The Cooklets can be purchased as a set for $65 plus postage and packing Individual Cooklets are $6.50 each plus postage and packing
Please contact Melanie for further information and ordering, by e-mail .
---

Return to Blooming Grove Studio- Macrobiotic Links
---