---


CREATING PERFECT-EASE
Disease or dis-ease is an unnatural and unwanted condition many people experience. It occurs when we are lacking a free and even flow of energy in the body. This imbalance can be caused by psychological or physical stress. I would like to address the physical stress created by the consumption of inappropriate food.
Understanding the opposite and complementary energies of yin and yang will enable you to make better food choices. This ancient Chinese yin yang theory is used today to achieve an elevated ease-state by minimizing extreme yin and yang foods and cooking styles. Basically, yin energy or force is expansive and yang is contractive.
The following chart is a generalization intended to give you a quick orientation of yin and yang foods and the relativity between them. Each category could be broken down further. For example, among root vegetables, burdock is very yang, carrots are yang, parsnips are a little less yang then carrots and daikon radish is relatively yin compared to them.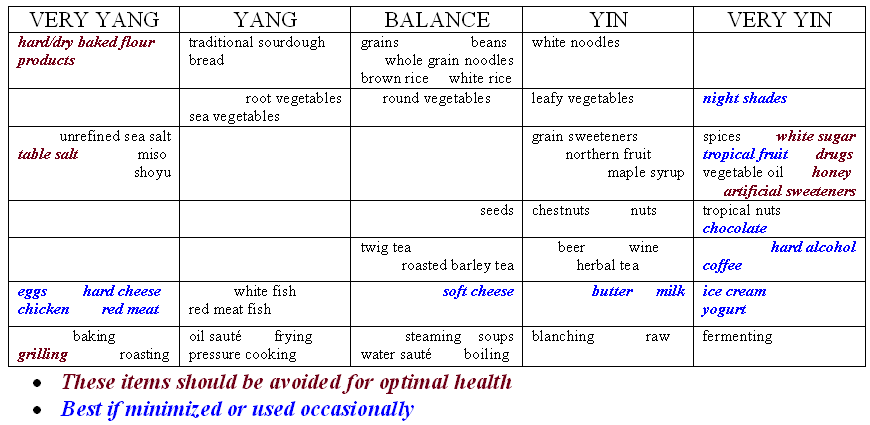 A good analogy to exemplify this concept is to think of a see-saw. In elementary school I quickly realized that my friend and I could balance (make horizontal) the seesaw if the heavier person moved closer to the middle (fulcrum) and the lighter person moved further out. Years later I learned this was Archimedes' Law of the Lever. Accordingly very yin or very yang foods are placed on the ends of the seesaw and have a greater effect on balance. The other categories have less effect on balance because they would be placed closer to the middle of the seesaw. So, the "weight" of the extreme foods has a greater impact on our balance or ease and should be minimized or used in small amounts.
We don't stay in perfect horizontal balance but swing back and forth. The goal is to keep the swings within a comfortable range avoiding the painful big swings (when the seesaw hits the ground). For example, if one was to eat eggs on a regular basis our condition may become too yang. Our natural response or craving would be to counter-balance our condition by eating extremely yin foods potentially creating big yin/yang swings or a state of dis-ease.
Having a good understanding of the alchemic powers of cooking one can manipulate yin and yang, steering yourself toward your desired ease state. The last row in the chart shows the energetic relationship between the different cooking styles. It is always helpful to know your constitution and condition in terms of yin and yang so you can decipher what direction you need to go in.
The problem is that everyone tends to perpetuate their overall condition unconsciously. Yang people love yang food and yang activity. Yin people love yin food and yin activity. When we understand yin and yang and our condition we start to become conscious of our choices and the outcome. In essence I am referring to the law of cause and effect. Causality exists whether you are conscious or unconscious of your choices and the outcome they produce.
It is empowering to understand the consequences of your food choices in order to create that perfect-ease state. For example you may often order a salad when you eat out without understanding its energetic effect. You may order it because you think it is the healthiest thing on the menu but its effect is to disperse your energy and internal heat which is OK if you are feeling too yang (tight and contracted) or if it is a hot summer day. However, if you are feeling cold and it is fall or winter it might be a bad choice. Fall and winter is a time to gather energy and eat well-cooked warming foods.
Prefect-ease is a state in which we are comfortable in our bodies and have no pain, no anxiety or panic. We don't need drugs to control pain or anxiety. It is a state in which we have lots of energy, sleep well and wake quickly and totally refreshed with our mind clear and sharp. Perfect-ease is having strength and endurance yet being relaxed and calm. When our body/mind is in equilibrium and the seesaw moves moderately up and down but never touches the ground we are experiencing perfect-ease.
William Klenk is a graduate of the Kushi Institute in Becket, MA and has been a macrobiotic cook and teacher for over 27 years. He lives in Stockbridge, MA and gives cooking classes for individuals and groups, shiatsu massage, life style consultations and ginger compresses. In addition, he teaches Introduction to Nine Star Ki, Five Energy Transformations, Understanding Yin and Yang, The Energetic Qualities In Food (The Doctrine of Signatures), and Oriental Diagnosis. He can be reached at 617-620-0968 (cell) or email him at wfk858@hotmail.com
Return to Top
---
THE MACROBIOTIC DIET - THE RIGHT PRESCRIPTION
In the spring of 1975 Dr. Charles Slanetz operated on my inguinal hernia (on my right side). Eight years later at 27 years old, still in pain from a colonoscopy, Charlie tells me that I have a severe case of ulcerative colitis (also known as IBD: inflammatory bowel disease). He gave me a prescription for pain and a neuro-inhibitor to minimize intestinal binding and cramping that needed to be taken indefinitely. He proceeded to tell me to eat white bread, white pasta, white rice and to drink milk to coat and soothe the intestinal lining and to avoid high fiber foods like brown rice and whole wheat bread. This was shocking and disturbing for me to hear because it was recently shown that a high fiber diet is important to reduce the risk of colon cancer.
Some background information will help to understand what got me into this deplorable state. I was raised on the standard American diet (SAD) and in my college years began to feel the negative effects this food had on my body and mind. The influence of a good friend in 1977 inspired me to become a lacto-ovo vegetarian. I started shopping in natural food stores and co-ops seeking natural foods and a "magic bullet" (mostly in tablet form) to overcome my severe hypoglycemia, chronic fatigue and intestinal discomfort. Occasionally I would find temporary relief from trying the many recommendations I obtained from the clerks at these stores. At age 22 I was taking about 30 different vitamin and mineral supplements -- turning my urine bright, florescent yellow -- "pissing" away my money and over working and stressing my kidneys! Still looking for a more lasting state of well being that I knew innately existed within myself, I then turned to herbal remedies. I tried the Dr. Robert's herbal formulation to heal my digestive system, Chinese herbs like ginseng and formulations with ginseng to increase energy and vitality. I took bowel cleansing formulas that contained strong herbs like cascara sagrada bark to loosen impacted intestinal walls followed by psyllium seed fiber to help remove the debris. I also tried drinking bentonite clay to detoxify my intestines. I only found temporary relief from my ailments except for an occasional worsening of symptoms. My condition was the opposite of having "intestinal fortitude". Lacking energy and vitality, I literally did not "have my shit together", and the drive to go out into the world to do what needed to be done. Unable to keep a full time job, I lived at home and was dependent on my mother's support. Other symptoms included abdominal cramping, pain and bloating (sometimes severe), abdominal itching and rashes, dry skin, weight loss, diarrhea alternating with constipation and other symptoms associated with environmental illness (ultra-sensitivity to chemicals and smells). In the fall of 1983, I sold my brand new VW Jetta because the fumes out-gassing from the synthetic interior made me disoriented, dizzy and nauseous. I could not sit in chairs or couches or sleep in beds that contained polyurethane (foam rubber) and other similar synthetic materials. I had to buy a 100% cotton futon bed and avoid the cozy furniture. In 1982 and '83 I tried a raw foods diet and the occasional obligatory enema. My condition got worse and I lost about 33 lbs. At six feet tall and weighting only 127 lbs., frightened to death, I find myself sitting in Dr. Charles Slanetz's office – and facing an unparalleled cross road in my life.
After his diagnosis, drug prescriptions and absurd dietary recommendations, and not feeling confident about any of it, I went back to my local health food store, Rising Tide Market in Glen Cove, New York. Confiding in one of the owners, Melanie Melia, at the height of my desperation, she briefly told me about the Macrobiotic diet and recommended that I read "Natural Healing Though Macrobiotics" by Michio Kushi. Being an eternal optimist, I bought the book and began my never ending study of Macrobiotics (long, big or great - life - art).
The cold winter of 1983/84 combined with my extreme yin condition compelled me to visit the warm climate of Florida. At the Macrobiotic Center in Coconut Grove, I took my first cooking class followed by my first macrobiotic meal. It was March 24, 1984 and the instructor was Warren Wepman. We made and ate; onion miso soup, brown rice (boiled with umeboshi plum), steamed greens (with onion), vegetable nabe, chic peas (pressure cooked), pickles, poppy seed cake, and bancha tea. The effect this meal had on me changed my life forever. The vitality and energy I was seeking had finally arrived. Almost instantly, I felt energized by the food and it lasted for many hours. I knew at that time that this would be my diet, my way of life and my path to wellness.
However, it wasn't until June 14, 1984 (Flag Day) when I arrived in Brookline, Massachusetts to study at the Kushi Institute that I started to eat macrobiotically on a regular basis. I lived in a macrobiotic study house which included room and board. After a few days of eating a balanced diet my symptoms associated with the colitis subsided and completely cleared up after one week. However, if I deviated from the diet by eating an extremely yin or yang food my symptoms would briefly return. After a year or two my intestines were healed and I widened my diet and could occasionally eat more extreme foods and not experience the symptoms of colitis.
It was all about food and its powerful effect on my condition. In 400 BC Hippocrates said "Let food be thy medicine and medicine be thy food". This macrobiotic and gentle approach to wellness is not a fad that comes and goes. It is our heritage and our birth right to empower ourselves with natures wide variety of whole foods.
Return to Top
---
Can You Drink Too Much Water?
The answer is YES. Too much is too much. One can drink or eat too much of anything. The question should be "How much water is too much?" The answer to that question is: it all depends on a person's age, daily activity, atmospheric conditions and other liquids and foods consumed.
Kids and young adults need more water because they are still growing and they have a higher metabolic rate. If your activity level is high you will require more water. Running, dancing, swimming, biking and house cleaning are all highly aerobic activities that require us to breathe more heavily. We lose water through evaporation inside the lungs. I can see evidence of this when I clean my reading glasses. When I exhale on them, condensation of the water vapor will appear.
If the atmosphere is dry we lose more water. Indoor heating and cooling systems will dry out the air, requiring the consumption of more water. Also, in a hot climate we will lose more water by sweating in order to maintain body temperature homeostasis.
If the water content of your food is low you will need to drink more. Hard, dry, baked flour products like bread, crackers, cookies and pretzels will pull water out of your system as they are being digested. However, if you consume moist food or food with high water content like vegetables, fruit, whole grains and beans that are raw, blanched, boiled, steamed, sautéed or pressure cooked your need to drink water will be less.
So, the notion that we all need to drink 6 to 8 glasses of water daily is nonsense. In order to be healthy our body needs to maintain homeostasis. One of the many functions of our kidneys is to regulate water and mineral concentrations in the bloodstream. Consequently, if we drink too much water or eat too much salt our kidneys will be stressed and they will need to work harder in order to maintain that balance.
The wisest thing to do is to drink when you are thirsty because given all the variables one can not quantitatively determine how much water to drink.
There are different sources of water available to us these days. Which is the healthiest to drink? From a qualitative perspective, I recommend purchasing a high quality water filter with an activated carbon-block cartridge. Energetically and physically, water from this type filter is the closest to nature as possible. In nature water flows underground or in streams and contains minerals. Solid carbon-block filtration uses flowing water (through pipes leading to your home) and does not remove any of the vital minerals.
We have all heard of the magical healing powers of spring water do to an assortment of minerals. However, what is not widely understood is that water's healing power lies not only in minerals but also in its life force created by flowing movement. Energetically, bottled water has lost its connection with the healing powers of nature and has become stagnant.
Never buy bottled water. The markup on bottled water is about 3,000 to 4,000% and has been sitting in that bottle for up to two years. As it sits and stagnates on the supermarket shelf, it potentially absorbs harmful plastic compounds linked to hormonal disturbances. The list of plastic compounds is long but one example is PET (polyethylene terephthalate), a substance that mimics estrogen. PET is everywhere and most plastic water bottles are made with this resin. It has an identification code number "1" inside the universal recycling symbol located on the bottom of these bottles. Use only stainless steel or glass water bottles and fill them up at home using a filter.
Do yourself and your kidneys a service by tuning into your body's natural cravings and align yourself with all that is natural. Instead of having a preconceived notion as to how much water to drink, recognize when you are truly thirsty and drink an appropriate amount of high quality water.
William Klenk has been an independent Multipure Water Filter distributor for over 16 years and has solved the drinking water problems of hundreds of families. He also teaches macrobiotics and gives life style consultations and cooking classes for individuals and groups. He is a graduate of the Kushi Institute in Becket, MA. He can be reached at 617-620-0968 or email him at wfk858@hotmail.com His web-page can be found at http://www.9starki.com/will.htm