Your 9 Star Ki Annual Forecast

E-mailed to you. Worldwide.
Created with Your ki and Your Life in mind. Serving you on the net since 1996, we were the first 9 Star Ki web site and are dedicated to remain the standard-bearer for all who follow in our footsteps. Our site, our free forecasts and our publications reflect traditional Japanese Nine Star Ki with no equivocation. Period.
We are here for you. If you have any questions or comments, please contact us and we'll respond with professional courtesy, in a timely manner. Given the state of the world, we feel that 9 Star Ki is of very great importance, and can serve as a valuable tool in the 21st Century. That's why we are here, that's why we've been here, and that's why we'll remain.
---
Click to See:
---
<!*****************************> "I am very impressed with how detailed and how personalized it was. It was very much in line with what is currently going on in my life and what I have planned for the coming months........ Keep up the good work! You're the best!"
M.R., Salt Lake City, Utah
<!********************************>
---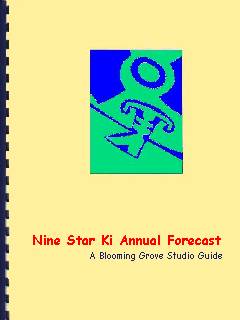 Nine Star Ki Annual Forecast
Click to See Example Forecast
Beginning in 2003, this is provided as an electronic document (Adobe "Acrobat" Reader PDF file). The Forecasts are provided as e-mail attachments. The file size is approximately 250 kilobytes, so it's easy to open. This detailed publication has many more features than your free, on-line forecasts ( click here to learn more ) . And it covers an entire year, providing a long-term, comprehensive outlook.
We provide the Adobe Reader files (ending with ".pdf") because they are the global standard for distributing publications to any Apple or PC platform, while maintaining the clarity and the integrity of the original work. If you use Adobe Reader, they are non-executable, so they cannot introduce a virus.
The Annual Forecast is designed for goal oriented people who want to make the most out of life. Periods for observing, planning and for taking decisive action are clearly defined. Trigram graphics for each monthly and annual position are included.
The forecast contains an introductory section, followed by pages describing events and providing recommendations for the course of the next 12 months. The forecasts are based upon your annual number and your position for the year and month.
Blooming Grove continuously updates the information in this publication. Therefore, you can order it any time of the year and begin to use it immediately. It's always up to date.
$19.95 usdollars
You must have Adobe Reader (version 7.0 or higher) to open your forecast. Older versions may work, but the images may not display clearly. Adobe Reader allows you to print your Forecast or view it on your monitor.

Adobe Reader is FREE software. You can download it by clicking here .
The Adobe program download is a LARGE file (over 30 megabytes). If you have a dial-up connection, the download could require considerable time. If you prefer not to use Adobe Reader, see our "Text" E-Publications, below.

---

E-Publications
For $12.95, we can e-mail the electronic version of your Annual Forecast, as a text file.
---
---
<!*****************************> "Muito obrigada for the forecast, I simply love the way you put certain things. Your interpretation is always enlightening for me."
S.H., Rio de Janeiro, Brazil
<!********************************> <!*****************************> "Thanks so much! You have such a knack for writing... I really enjoyed your response and reading the information each month."
C.S., New York, New York
<!********************************> <!*****************************> "I wanted to let you know that I'd been tracking myself religiously ever since our class and have noticed some HUGE, not-to-be-missed, patterns that occur for me. Its remarkable."
V.P., Philadelphia, PA <!********************************>
<!*****************************> "I really appreciate your service."
S.M., Oklahoma City, OK

<!********************************>
---
Do you live outside of the United States? Click here to see prices in your currency.
---

How to Place Your Order
There are three ways to place an order:

1) PayPal®:
PayPal® is now the ecommerce standard for fast, secure transactions.

You can pay by credit card, even if you're not a PayPal® registered member. You can use Visa, MasterCard, Discover, and American Express (but not American Express Corporate cards). (Learn More about PayPal)



Note for Customers Outside of USA:
PayPal® lets you pay in U.S. Dollars, Euros, Pounds Sterling, Australian Dollars, Canadian Dollars, Yen and many other currencies. When you place your order, they will show you the current exchange rate and the equivalent amount in your currency. When you pay, they will handle the conversion for you.

2) Our Secure Shop:


For Microsoft Internet Explorer® (all versions). Our secure form makes on-line shopping fast and easy. It contains a message field, that allows you to provide feedback and to place multiple orders. The secure shop accepts MasterCard and Visa in all currencies, around the world. If you don't have Internet Explorer®, you can use the PayPal or Paper options.
NOTE:
UNTIL FURTHER NOTICE, OUR SECURE SHOP IS CLOSED. Several recent browsers are incompatible. We hope to have a new up-to-date shopping cart in place, as soon as we find one that tests 100% secure. Meanwhile, please use PayPal as the majority of our customers do. In most global locations, you don't need a PayPal account to make a credit card purchase.
3) Paper Form: If you wish to pay by check, or prefer ordering by postal mail, you can print our paper order form. (Visa, MasterCard, Check, Money Order). Checks and money orders can be made in US or Canadian dollars or in Euros.
Click on the method of your choice, below.

<!A HREF="www/welcome.htm">

<!/A>

Currently Not Available
---
---
If you have any questions, please feel free to
---
<!*****************************>

"Wow! What a report... still haven't read every word....but gotten through most of this year! It's all very amazing stuff."
J.G., Philadelphia, PA

<!********************************>
---

Return to Home Page

Return to Nine Star Ki / Feng Shui Resource Page
---
<!*******************>

<!*****************************>

"Hi there! Thank you for your very nice web site. I visit it every month."
R.N., Stockholm, Sweden

<!********************************> <!*****************************>

"Just wanted to say Thank You for your fine work! I received and have been ruminating over my Annual and Directionology charts...very interesting and informative - an affirmation in its own right.."
N. H., Boise, Idaho

<!********************************>
---
If your on-line forecast has been of service, then you may want to consider our more detailed publications.
Concerned about costs? Plain and simple, a clear understanding of the nature of the times can help you to generate far more income than you'll ever spend here.
Life is more than a daily game of action & reaction; of "just getting by". You have a future to build, in the happiest, healthiest, most prosperous way. We're here to help you do exactly that.
Thanks for visiting!
---
© The Blooming Grove Studio. Serving you on the net since June, 1996.
---
<!****************************>